The minimum requirements to qualify for gastric sleeve surgery include:
A body mass index (BMI) of 40 or more, OR
A BMI between 30 and 39.9 with a serious obesity-related health problem like diabetes, high blood pressure, sleep apnea, high cholesterol, joint problems, and many others
Click Here to See Your BMI
However, protocols are a bit more stringent if you want insurance to pay, such as requiring a 35+ BMI and a completed medically supervised weight loss program.
Patients who qualify for gastric sleeve surgery usually:
Are at least 80 lbs (36 kg) overweight
Are between 18 and 75 years old
Have a history of failed weight loss attempts (example: failed diets)
Thoroughly understand that the procedure is just a tool; your long-term success requires you to make significant diet and lifestyle changes
Read the sections below to learn everything you need to know about qualifying for gastric sleeve surgery.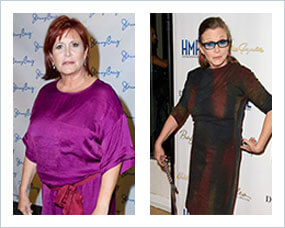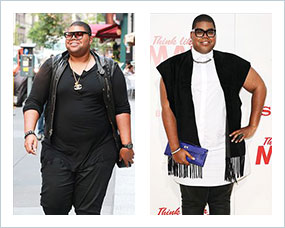 Before and after weight loss success
Individual results may vary
TABLE OF CONTENTS
Click on any of the topics below to jump directly to that section
How to Get Insurance Approval for Gastric Sleeve Surgery
SECTION SUMMARY:
Use our Check My Insurance Tool or ask a local surgeon to confirm your insurance coverage
Follow the 8 steps below to get insurance approval
First, find out if gastric sleeve is included under your policy by (1) using the tool below or (2) clicking here to access the weight loss surgeon directory. Most surgeons will check your insurance for free to confirm coverage criteria.
Click Here to Check Your Insurance
If gastric sleeve insurance coverage is included under your policy, you will need to meet all of your insurance company's coverage criteria (click here for list of insurance companies) to confirm the "medical necessity" of your surgery.
Assuming you follow all the guidelines and provide complete, accurate information requested by your insurance company, the gastric sleeve insurance approval process from start to finish can take anywhere from one month to one year.
Here is how to get insurance to pay for gastric sleeve:
Minimum body mass index (BMI) requirements to be confirmed by your physician:

BMI over 40 –OR–
BMI from 35 and 39.9 with one or more of the following:

Clinically significant obstructive sleep apnea
Coronary heart disease
Medically refractory hypertension
Type 2 diabetes mellitus

BMI from 30 to 34.9 – may be approved on a case-by-case basis

Complete a medically supervised diet program (3 to 7 consecutive months, depending on insurance company).
Schedule a consultation with your bariatric surgeon (your surgeon can coordinate your medically supervised diet program as well).
Schedule a consultation with your primary care physician to obtain a medical clearance letter.
Schedule a psychiatric evaluation to obtain a mental health clearance letter.
Schedule a nutritional evaluation from a Registered Dietitian.
Send all of the above documentation to your insurance company along with a detailed history of your obesity-related health problems, difficulties and treatment attempts. The review process typically happens in under one month.

Insurance company sends approval or denial letter:

If approved, your surgeon's bariatric coordinator will contact you for scheduling.
If denied, you can choose to appeal the denial.
We highly recommend contacting a surgeon to do all of the legwork for you and to help you through the process. They are very experienced in managing each stage of the process, and may have all of the required personnel on staff (e.g. registered dietitian, psychiatrist, bariatric coordinator, etc.).
Click here to access the weight loss surgeon directory to get started.
Reasons You Won't Qualify for Gastric Sleeve
SECTION SUMMARY:
Your BMI is not high enough
You have only limited previous diet attempts
You have certain physical or mental health conditions
You are pregnant or plan to be pregnant in the near future
Characteristics that may disqualify you from having gastric sleeve surgery include:
Low body mass index (not being heavy enough) – see BMI requirements at the top of this page
Under 18 years old (although patients as young as 14 may be approved under certain circumstances)
Limited past diet attempts
Current pregnancy (or anticipated pregnancy within 2 years) – click here and here for surgeon Q & A about getting pregnant after having the gastric sleeve procedure
Current infection
Having very high operative risks, such as a patients with a severe heart or lung disease
Substance abuse
Major mental health issues that may prevent firm understanding of surgery and required lifestyle changes
inflammatory disease or condition of the gastrointestinal tract, such as ulcers, severe esophagitis, Barrett's esophagus, or Crohn's disease
Portal hypertension
Abnormal esophagus, stomach, or intestine
Cirrhosis
Chronic pancreatitis
On chronic, long-term steroid treatment
Not willing to follow long-term diet, vitamin, or exercise regimen
Autoimmune connective tissue disease
Uncontrolled or untreated psychiatric disorder
Suicide attempt in last 18 months or multiple attempts within last 5 years
Conditions that may or may not disqualify you include:
If you have any of the above issues, contact a weight loss surgeon to discuss your options.
For a list of frequently asked questions about qualifiers (and disqualifiers), see our page "Do I Qualify For Weight Loss Surgery?"
Next Steps if You Meet the Requirements for Gastric Sleeve Surgery
SECTION SUMMARY:
Next steps if you are going through your insurance company
Next steps if you are paying without insurance coverage (example: using a medical loan)
If you have insurance, click here to review the section above for next steps.
If you do not have insurance, the next step is to determine how you will pay for surgery. Options include:
Private insurance
Medicare or Medicaid
Payment plan through surgeon
Secured medical loan
Unsecured medical loan
Retirement plan loan
Life insurance policy loan
Loan from family or friends
See our Financing Weight Loss Surgery page for more information.
Your Options if You Do Not Meet the Requirements for Gastric Sleeve Surgery
SECTION SUMMARY:
You can have a gastric balloon inserted to help you lose weight
If you do not meet the minimum gastric sleeve qualification requirements, you may still qualify for the gastric balloon procedure.
The gastric balloon procedure (endoscopic intragastric balloon) leaves an inflated silicon balloon(s) in the stomach for 6 months, making less room for food. As a result, patients:
Feel full sooner while eating and therefore eat less
Lose about 30% of their excess weight in 6 months
Have health improvement for diabetes, joint/bone disease, and heart-related issues

You could be a good candidate for the gastric balloon procedure if you:

Are at least 18 years of age
Have a body mass index (BMI) in the following ranges by country:

United States: between 30 and 40
Canada: above 27
Australia: above 27
Mexico: above 27
United Kingdom: above 27

For some types of balloons, such as the ReShape Balloon, you must have a health risk associated with obesity (also known as a "comorbidity") like diabetes, high blood pressure or sleep apnea. For other balloon types, like the Orbera balloon, no comorbidities are required.
See our Gastric Balloon Patient Guide for more information.
Find a Gastric Sleeve Surgeon
SECTION SUMMARY:
You can ask a local bariatric practice for a free insurance check or cost quote
You can attend a free in-person seminar or an online webinar offered by a local weight loss surgeon
You should schedule a phone or in-person consultation (both often free), if you are interested in learning more about weight loss surgery