Adolescent Bariatric Surgery & Teen Obesity - All You Need to Know
Adolescent bariatric surgery is a drastic, life changing — and controversial — decision.
Proponents site many benefits to obese teens including sustained weight loss, improvement in existing and future health problems and an end to mental health issues. But critics fear that such a drastic decision could come back to haunt the teen later in life.
This page explores the available research to help you decide whether it's right for you or someone you love…
Health, Mental & Social Problems Caused by Teen Obesity
Obesity in teens is associated with significant mental and physical challenges, and it has been found to increase the risk of serious long-term health problems…
Health problems and teen obesity
Almost all morbidly obese teens have at least one serious obesity-related health problem, while the average number is four.1 Obesity in teens is associated with:
Fatty Liver Disease – 38% of obese children and adolescents have fatty liver disease.2
Hypertension – obese adolescents are about three times more likely to develop hypertension than non-obese adolescents.3
Metabolic Syndrome's prevalence increases with the severity of obesity. Fifty percent of severely obese adolescents have metabolic syndrome.4
Orthopedic Injuries – Spinal complications, slipped capital femoral epiphysis, Blount disease and acute fractures have all been associated with teenage obesity.5
Sleep apnea – Obstructive sleep apnea and obesity hypoventilation syndrome are serious consequences of obesity in teens.6
Type 2 diabetes, which leads to adverse heart-related risk factors is correlated with teen obesity.7
Other health problems associated with obesity in teens include asthma, polycystic ovarian syndrome, skin fungal infections and acanthosis nigracans and dyslipidemia.1,8
Mental and social problems caused by teen obesity
Equally debilitating are the common obesity-related mental and social challenges and the problems they cause, including:
Anxiety – Obese adolescent females are almost four times more likely to suffer from anxiety disorder.9
Bully victims – Compared with those of average weight, obese boys were 1.66 times more likely to be overt bully victims, while obese girls were 1.53 times more likely.10
Dating problems – Compared to their average-weight counterparts, obese girls are less likely to date. In addition, both obese boys and obese girls are more dissatisfied with their dating status.11
Depression – Female teenagers who are obese are nearly four times more likely than those of normal weight to develop major depressive disorder.9
Obesity discrimination in schools may cause obese students to be less likely to succeed.
Social teasing from friends and family – 63% of obese girls and 58% of very obese boys reported being teased by their peers. 47% of obese girls and 34% of obese boys reported weight-related teasing from family members.12
Unhealthy or risky behaviors, including alcohol use, tobacco use, premature sexual behavior, inappropriate dieting practices and physical inactivity are more common among obese teens.13
What's more, most overweight teens become obese adults who have additional and even more severe health problems…
Adult health issues resulting from teen obesity
According to the Surgeon General, overweight adolescents have a 70% chance of becoming overweight or obese adults. The likelihood increases to 80% if one or both parents are overweight or obese.
Alarmingly, obese teens are much more likely to take on additional and more life-threatening ailments during adulthood than teens of normal weight.
For example, a higher body mass index during childhood is associated with a higher risk of coronary heart disease in adulthood.14 Obese adolescents are also more likely to develop chronic conditions such as breast, colon and kidney cancer, gall bladder disease, musculoskeletal disorders and stroke.15
Very high adolescent body mass index has even been shown to result in earlier death. These very obese teens have a 30 to 40% higher adult mortality compared with those with a mid-level body mass index.16
Adolescent Bariatric Surgery Gaining Popularity & Acceptance
Currently, almost one out of every five teens is obese as defined by the National Institutes of Health. In the past, teenagers had two options:
Lose weight by changing diet and exercise habits
Live with current and future consequences of obesity
While the first option is ideal, unfortunately it is not effective for as many as 70% of teens who try it.17
As advances in weight loss surgery for adults have reduced complication and mortality rates, increased the amount of long-term weight loss and improved or eliminated obesity-related health problems, more and more teens – and their doctors – have begun exploring surgery as a valid option.
Teen weight loss surgery continued to gain steam in 2007 when researchers compared teen results obtained in 2003 with adult bariatric surgery patients and found that:18
In-hospital complication rates were similar
Hospital length of stay was significantly shorter for teens
Compared with a 0.2% adult mortality rate, no in-hospital deaths were observed in adolescents
Additional research has further supported the efficacy and relative safety of teen weight loss surgery…
Adolescent Bariatric Surgery: The Research
The increasing popularity of adolescent bariatric surgery has allowed researchers to more thoroughly evaluate the impact of surgery on this age group.
The available research (much of which is presented below) indicates that teen weight loss surgery patients experience similar weight loss and health improvements with fewer complications when compared to adult patients. The reason is likely twofold:
The research has also found that the earlier an obese patient loses weight, the lower their achievable weight.
The rest of this section will explore the adolescent bariatric surgery research regarding:
Adolescent Bariatric Surgery Research: Weight Loss
A meta-analysis of adolescent bariatric surgery research evaluated studies published from 2001 through 2007.19 The studies included 641 teenage patients, including 352 lap band and 131 gastric bypass surgery patients.
The body mass index reductions at the longest follow-up for each study indicated sustained and clinically significant body mass index reductions for both lap band surgery and gastric bypass surgery. The following chart shows the change in body mass index along with the timeframe and number of patients for each procedure and study: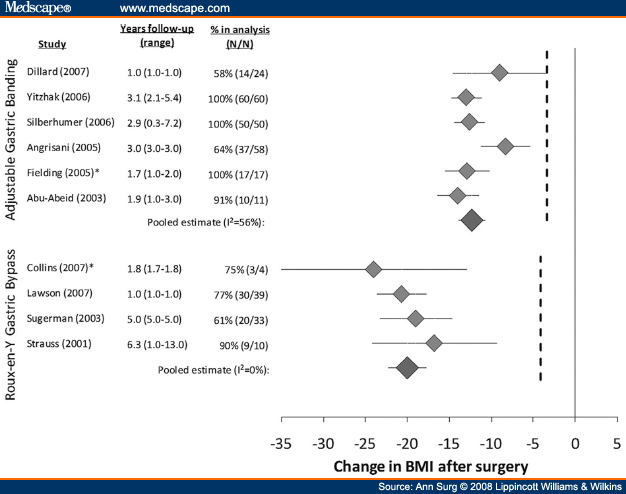 Following are the weight loss findings of additional studies focused on teen weight loss surgery, which showed short-term weight loss ranging from 34% to 84% of excess weight lost:
Adolescent Bariatric Surgery Research: Health Improvement
The tracking of obesity-related health problems among the above-mentioned meta-analysis studies was limited, but the studies that reported it did show improvement or resolution of some medical conditions including diabetes and hypertension.
Several other studies have focused specifically on health improvement following adolescent bariatric surgery. Following were their findings by condition:
Diabetes: Remission of type 2 diabetes in all but 1 patient. Significant improvements in fasting blood glucose, fasting insulin concentrations, hemoglobin A1c levels, insulin sensitivity, serum lipid levels and blood pressure.20

Heart health:

Study 1 – Cardiac abnormalities in morbidly obese adolescents decrease with weight loss and persist for at least 2 years following bariatric surgery.21
Study 2 – Glucose, insulin, total cholesterol, LDL-cholesterol, and triglyceride levels decreased significantly, while HDL-cholesterol, hemoglobin, and albumin levels remained unchanged.22

Hypertension normalized in all patients.22

Quality of life:

Study 1 – Recent data reaffirm decreased health-related quality of life (HRQL) in obese adults and children. Of those who completed the HRQL questionnaire before and after surgery, their scores after surgery did not differ from the scores of normal-weight adults who did not undergo surgery.23
Study 2 – Quality of life improved in all patients.22

Metabolic syndrome resolved in 82% of patients at 18 months.22

Psychosocial functioning:

Study 1 (direct study on adolescent bariatric surgery patients): Over the 12 month follow-up period, adolescent Roux en Y gastric bypass surgery resulted in significant improvement in health related quality of life and depressive symptomatology.24
Study 2 (general study on the impact of significant weight loss in children, not on bariatric surgery patients): Children who participated in the family-based behavioral childhood obesity treatments showed significant changes in percentage overweight. This study is unique in demonstrating the influence of participation in a pediatric weight-loss program on child psychological changes across a wide variety of syndromes. The other major finding of this study was the independent association between improvement in child obesity and improvements in Total Competence, somatic complaints, social problems, and social competence.25

Sleep apnea: Nineteen of 34 patients (55%) who underwent bariatric surgery were diagnosed with obstructive sleep apnea. After surgery, 10 of those patients returned for follow-up testing. Sleep apnea severity improved significantly in all patients (median apnea-hypopnea index at baseline vs. after weight loss, 9.1 vs. 0.65).26
For the full list of improved or resolved health problems in adults following weight loss surgery, see our Obesity Health Problems page.
Adolescent Bariatric Surgery Research: Risks & Complications
Teen weight loss surgery has been found to be at least as safe as adult bariatric surgery.
For example, in 2003, 771 bariatric procedures were performed in adolescents. A comparison with adult weight loss surgery data from 2003 showed a similar in-hospital complication rate but a significantly shorter length of stay among adolescents. While the adult in-hospital mortality rate in that year was 0.2%, there were no in-hospital deaths among the teenage bariatric surgery patients.27
But despite the safety of teen weight loss surgery when compared with adults, there are still risks that should be seriously considered and understood by prospective patients.
The meta-analysis of adolescent bariatric surgery research discussed in the previous sections also focused on complication and mortality rates.19 Following were their findings by procedure:
A separate study from 2008 included 10 teenage gastric sleeve surgery patients. No in- hospital deaths occurred and 2 of the patients (20%) experienced complications (one intraperitoneal abscess and one polyneuritis), both of which were resolved with medical treatment without additional problems.28
For additional research on risks and complications, see our Bariatric Surgery Complications page.
Critics of Adolescent Bariatric Surgery
When over 500 pediatricians and family doctors across the U.S. responded to a survey asking whether they would ever recommend bariatric surgery for teenagers, 52% said yes. But that leaves 48% who said they would never recommend it.29
Disapproving physicians and other critics of teen weight loss surgery present 7 valid concerns:
Younger patients may not be disciplined enough regarding appropriate bariatric diet, weight loss surgery exercise, weight loss surgery support group participation and physician follow-ups for successful long-term outcomes. For example, one study of 71 adolescent Roux-en-Y gastric bypass patients found that clinical follow-up decreased one and two years after surgery (from 94% follow-up 6 months post-op to 69% two years out).33
Adolescent patients may not have the supportive family dynamic that is essential towards making the pre- and post-surgery requirements achievable.
Younger patients do not have the ability to properly evaluate the risks versus the rewards of surgery.
Teen weight loss surgery's availability may lead obese teens to believe that surgery is the most viable and accessible option, when losing weight by diet and exercise is safer and more natural.
Weight loss surgery could lead to malnourishment, especially after malabsorptive procedures like gastric bypass surgery, which could affect the physical development of a growing teen.
Bariatric surgery is "associated with bone loss in adolescents", although "the predicted bone density [2 years after bariatric surgery was shown to be] appropriate for age" according to one study of 61 adolescent Roux-en-Y gastric bypass patients. The researchers call for further research to determine whether adolescent bone mass following weight loss surgery "continues to change or stabilizes."33
For those having lap band surgery, there are concerns about its ability to remain in place and not erode over a long period of time.
The last point is very similar to a serious lap band concern adults must consider when choosing the bariatric procedure that's right for them. This will be discussed further in the Procedures section below.
Points one through five can be addressed by working with an ethical and experienced surgical team, as they will not approve the patient for surgery unless there is a very high likelihood that these problems will not occur. Their strict adolescent screening requirements are likely a major reason why teen surgical outcomes compare so favorably to adult outcomes.
Adolescent Bariatric Surgery: 6 Requirements to Get Approved
According to recent adolescent bariatric surgery best practices update…30
To meet these best practice guidelines and be approved for surgery, teenagers must meet six surgeon- enforced requirements:
Have a body mass index that meets the NIH consensus criteria for weight loss surgery in adults (BMI above 40 or BMI between 35 and 40 with a serious co- morbidity)31
Both patient and parent/guardian must provide consent

Psychological evaluation of patients and parent/guardian to ensure mental aptitude for pre- and post-surgery requirements, including:

Supportive family environment
Willingness/ability to commit to strict diet, exercise and weight loss support group and physician follow-up requirements for the rest of their life (see our Bariatric Treatment and Life After Weight Loss Surgery pages for more about patient requirements before and after surgery)

Patient must have reached physical and skeletal maturity. Common methods for determining this include:

Evaluating the adolescent's physical maturity to the Tanner Scale. The adolescent patient should have reached Tanner Scale IV or V prior to being approved for surgery.

Doctors can determine whether adolescent growth plates have been fully fused via x-ray.
The average teenage girl reaches her adult height at 13 or older while the average teenage boy reaches it at age 15 or older.

Teenage girls must be willing to avoid pregnancy for at least one year, preferably two (see Pregnancy after Weight Loss Surgery for more information)
Prospective patient must have participated in a clinically supervised weight loss program with unsuccessful results for at least 6 months.
Good bariatric surgical teams have the knowledge and resources available to help determine whether each of the above criteria is met (more on finding the right bariatric surgeon for teens further down the page).
Which Types of Bariatric Surgery Are Best for Teens?
According to the Best Practice Updates for Pediatric/Adolescent Weight Loss Surgery, Roux-en-Y gastric bypass surgery and adjustable gastric banding (lap band surgery) are the only two appropriate considerations at this time.8
The biliopancreatic diversion and duodenal switch surgeries should not be considered by teens due to their resulting high levels of malabsorption and their high risks compared to gastric bypass and lap band surgery.
Gastric sleeve surgery, while becoming a more and more viable option for adults, still does not have the appropriate long-term research for patients of any age. This would seem to exclude it from recommended use in teens. See our Gastric Sleeve Surgery page for more information about the procedure, benefits and risks and talk with your surgeon if you feel it should be considered.
Similarly, other newer weight loss surgery procedures lack sufficient research.
The rest of this section compares the two most viable teen weight loss surgery options:
Teen Gastric Bypass Surgery
Roux en Y gastric bypass surgery is considered the current "gold standard" treatment for both adults and adolescents as long as the patient commits to appropriate long-term follow-up care.
Positives of Teen Gastric Bypass Surgery vs Teen Lap Band Surgery
Greater and more consistent average weight loss in adults (60% to 70% of excess weight vs. 50% with the band) (existing research suggests that fully developed adolescents should expect the same weight loss as adults19).
Resolution of obesity- related health problems has been shown to be higher in adults, although insufficient research exists for teens.
Dumping syndrome, while a very unpleasant and frequently reported side effect, has been said by many patients to help them keep their long-term diet and weight loss efforts on track
Negatives of Teen Gastric Bypass Surgery vs Teen Lap Band Surgery
Higher rate of more serious complications
Dumping syndrome
Malabsorptive component carries with it a higher risk of malnutrition
Teen Lap Band Surgery
Adjustable gastric banding is not approved for use in teens by the Food and Drug Administration. Allergan, maker of the LAP-BAND System, is pushing to get the system approved for teens, but it is likely that final approval determination would not come before the results of the Teen-LABS study are published.
However, like any device, adjustable gastric banding can be used if a patient's doctor deems it appropriate.
Positives of Teen Lap Band Surgery vs Teen Gastric Bypass Surgery
The procedure is reversible
Adult research suggests that the frequency of serious complications are much lower
There is a lower risk of malnutrition since the anatomy of the digestive system is not changed
Negatives of Teen Lap Band Surgery vs Teen Gastric Bypass Surgery
The ability of the band to "hold up" over a long period of time, an obvious requirement for its use in teens, is unknown.

It is likely to have similar downsides as lap band surgery in adults, including:

A wide range of potential weight loss (in adults, average excess weight loss is around 50% but ranges from below 25% to over 85%)
A much higher rate of minor complications and reoperations

Assuming no complications, patients must visit the doctor up to 10 times more often for band adjustments.
For more information on each procedure, see the following pages:
Directory of Adolescent Bariatric Surgery Clinics and Hospitals
If possible, working with a weight loss surgery clinic or hospital that specializes in adolescent bariatric surgery is ideal. They are experienced in both adult and teen surgery and have direct access to pediatric doctors, psychologists, nutritionists and nurses.
This cross functional team allows teen patients to receive the surgical experience required for a successful procedure along with pediatric experience for pre- and post-surgery treatment.
However, we do not recommend moving forward with any surgeon or team (including the ones listed below) without proper evaluation. See our Finding the Right Bariatric Doctors page to learn how.
If you find that the below hospitals and clinics are too far from home or are not a good fit for your family, consult with a "Center of Excellence" bariatric surgeon in your area.
Click one of the following to jump down to your state (if your state is not listed, it means that we are not aware of a specialized center there. Check nearby states or discuss your options with your local centers of excellence):
Alabama
Birmingham
California
Palo Alto
Colorado
Denver
Delaware
Wilmington
Florida
Jacksonville
Maryland
Baltimore
New York
New York City
Ohio
Cincinnati
Columbus
Rhode Island
Providence
Texas
Houston
Your Experiences with Teen Obesity & Adolescent Bariatric Surgery*
What have been the effects of teen obesity on your life?

Considering teen weight loss surgery for yourself or your child? Or did you already have the procedure?

Please share your experiences, thoughts or advice.